It's easy to stay in touch with your camper while he or she is at camp with us this summer.
---
Regular Mail & Care Packages
Send letters and packages via Canada Post or Courier Service. The expected delivery is 3-7 business days from within Ontario. In addition, please note that mail/courier delivery does not come directly to camp and we are required to pick it up in town. Therefore, given our short camp week sessions, please send mail/packages well ahead of time to ensure your camper receives it while they are at camp. Note: Special packages (ie. birthday presents) can be dropped off with staff at check-in day to ensure they are given to campers on a specific day. 
Canada Post Mail Service: i.e Regular Mail or Expresspost
Envelopes or packages should be addressed as follows:
Your Child's Name
c/o Hockey Opportunity Camp
PO Box 448
Sundridge, ON P0A 1Z0
Email Your Camper
To send an email to your camper, please click on the link below.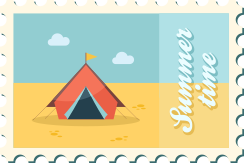 Phone Calls
Due to the potential volume of calls and disruption to camp, phone calls to/from campers are not permitted. In the event of an emergency, please contact the office to make arrangements through the Camp Director.
In addition, cell phones are not permitted at camp. If they are brought to camp they will be taken from the camper, securely stored and returned at the end of the camper's stay.
Parent Communication Director
Our Parent Communication Director is the direct link between campers and their parents during camp.
For all new campers (first time at HOC), within the first 48 hours (ideally) of your camper arriving, parents will receive an email with a status update.
If you have any questions, or require additional updates while your child is at camp, please contact the Parent Communication Director via email or call the office and ask for the Parent Communication Director.  (Seasonal Only - July / August)